Music releases
Grind Makes Sludge compilation!!!!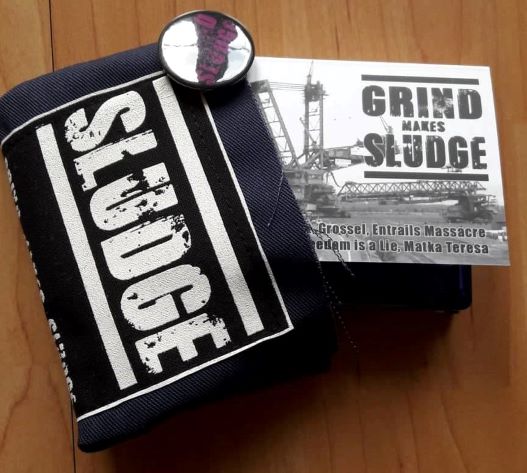 2018-December Here we have Grossel, Alea Iacta Est, Matka Teresa, Freedom Is a Lie, Entrails Massacre and Disturbance Project playing grindcore basically; but for now their two faced attitude represented with 1-1 songs, one ultrafaaast as shit, and a slooooowdown megaboom. Purple tapes packed in a handmade socket, including a pin and first 100 copies a patch. So you get every merch stuff you can get within one DIY set, don't miss it!!!!
1300 ft/4E
Click on to see in original size!
YOUTH VIOLENCE DISZKOGRÁFIA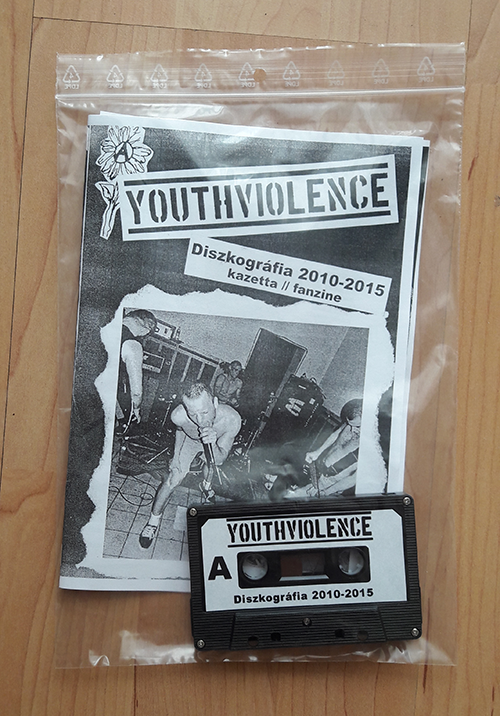 2018-March Powerviolence is a bit under-represented in our scene, Youth Violence was the only hardcore band with this style. They split up, so we made this memento for their memory in the picture of this grand tape-zine. This is a discography tape with all YV splits/demos/albums, featuring an unreleased Blitz cover. The tape has a 16 pages long booklet, a fanzine including all the lyrics, exclusive images about the band, and some tour posters. Anyway, it's a nice documentation of hardcore history.
800 ft/3E
Click on to see in original size!
JACK/METH LEPPARD SPLIT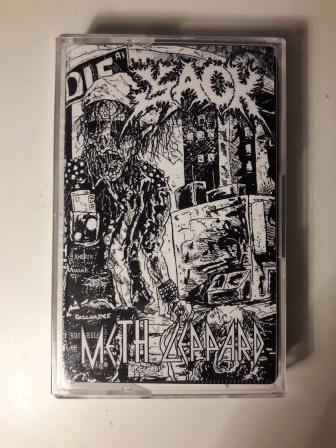 2017-may Jack is metallic, brutal grindcore from Hungary, Meth Leppard is intense raw grind from the next country (Australia), black and white cover, protape, grindgrindgrind. This is the direct tape version of the same titled vinyl, out on PH prod and Pöwer Rangers.
SOLD OUT
Click on to see in original size!
AGATHOCLES/APOPTOSIS SPLIT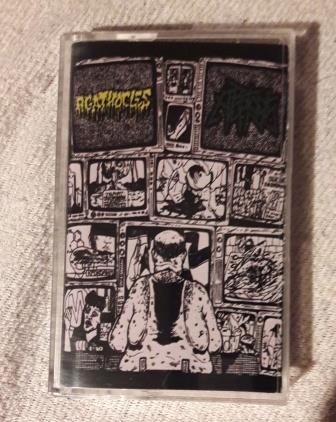 2017-February Apoptosis is grindy thrashcore, Agathocles is Agathocles.... Nice pro tape with black cover, white cassette. AG side has 3 songs (including a slower one), AP has has 5 grindy thrashbeats; the length is the same, though.
SOLD OUT
Click on to see in original size!
EGER HARDCORE COMPILATION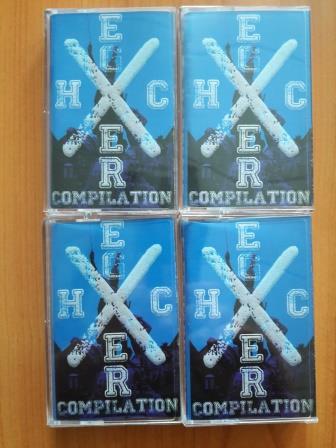 2017-January Hardcore from the true, old-school style!!!! Eger has a strong hc scene, this tape contains bands from this town. The compilation hides 2-2 songs from them: Tisztán a Cél Felé, Genetika, Forcas, Tango Underground, Fermentatio, Boston Clinica, Smiling Face, Anger, Cannonball, Skizo Corpse and Paneldogz. The release made in cooperation with Drinkin' Beer in Bandana records (dbibrec @ gmail . com).
1000 ft/3,5E
Click on to see in original size!
JACK: NEUROSIS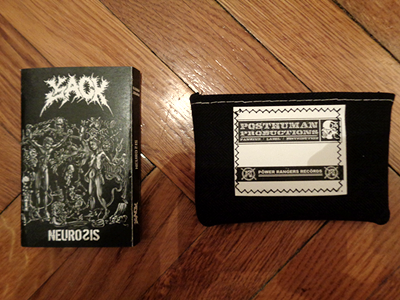 2015-October No, it's not a Jack/Neurosis split but the Hungarian grindcore band's new album which comes in black tape in a nice paper bag which is handmade just like WTZ/Tropical Youth split, see images below.
SOLD OUT
Click on to see in original size!
SOTE: TOTAL ENVIRONMENTAL COLLAPSE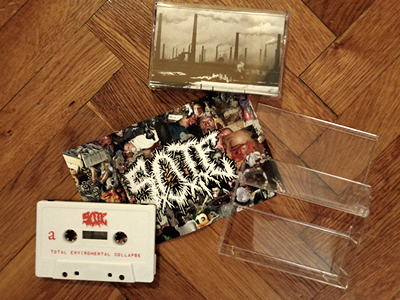 2015-September SxOxTxEx (Scums of the Earth) is a brand new grindcore band from Budapest, their first full-length album is out on professional tape in cooperation with Autistic Society System and Septic Aroma of Reeking Stench. Comes in b/w and black tape.
SOLD OUT
Click on to see in original size!
WOMBAT SIMOGATÓ HAPSIK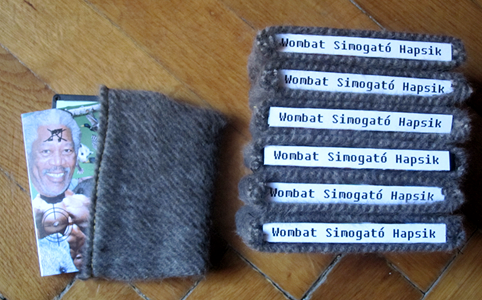 2015-February Absurd cyber-noisegrind project from 2003, released in a digipack tissue bag which is similar to a wombat's skin. If you touch it you have the illusion that you are a Wombat Simogató Hapsi, whilst you are only a Wombat Simogató Hapsik kazetta tok simogató hapsi... Tracklist: A huncut réce aki tőkés volt/ Az oposszumrajongó/ Babahintőpor/ Csak a hiúzok érdekelnek/ Leopold garbója nem gazfickó/ Morgan Freeman cicije/ Nagyon király ez a katona, fasszom/ Tibor a százhomlokú dínóúrficska. Galla Miklós meets Berzerker.
SOLD OUT
Click on to see in original size!
DIN-ADDICT: NEUROSEXUAL DEFORMATION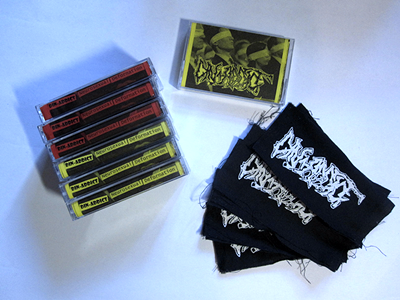 2014-July The band has been split up in 2005, this DIY tape hides their last 5 tracks in two differently mastered versions. There is the same program on each sides but with different sounds. The booklet comes in red and yellow, and with a free patch. Ask it from me, or from the cooperator label HappyHappyNoiseNoise (iwantgore[at]gmail[dot]com).
SOLD OUT
Click on to see in original size!
NADIMAC/CRIPPLED FOX/SLAUGHTER IN THE VATICAN/NOISE COMPLAINT SPLIT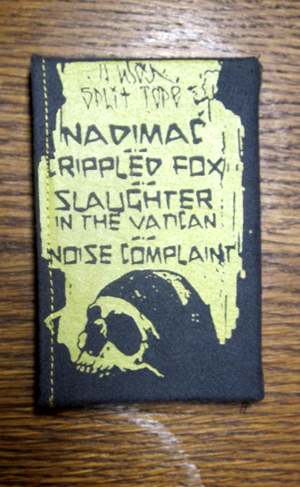 2014-April 4 way split with cool bands from different genres but in the same old-school thrashy style! Nadimac (SRB): thrash, Crippled Fox (H): thrashcore, Slaughter in the Vatican (I): thrashcore, Noise Complaint (UK): hardcore. Pro-done tape packed in a tissue bag with yellow print.
SOLD OUT
Click on to see in original size!
ANOTHER WAY: AZ IDŐ RÖVID TÖRTÉNETE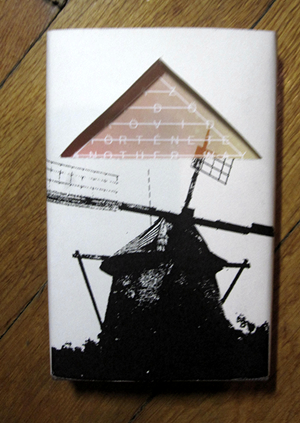 2014-January Another Way is the numero uno fastcore band in Hungary. The lyrics are dealing with the problems of the modern age with deep, philosophical ideas. The tape coming in a paper digipack with colourful, solid, but nice cover. 22 minutes, 13 grinding fastcore tracks.
SOLD OUT
Click on to see in original size!
SICKGORESUFFER/KARAK SPLIT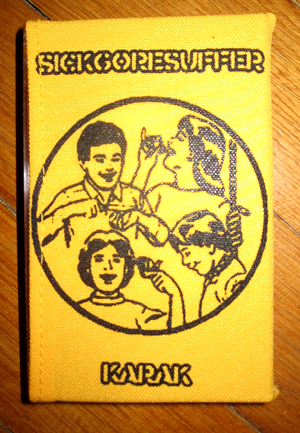 2014-January This crazy and ultra faaast grindcore-powerviolence shit will kick your ass!!!! SGS is from the Czech Republic, plays intense and killer pv-grindcore in the vein of Lycantrophy. Karak is a Hungarian pv/grind band this time with brutal sound. The tape is wrapped in a nice yellow tissue bag. Ask for the yellow patch.
SOLD OUT
Click on to see in original size!
WxTxZx/TROPICAL YOUTH SPLIT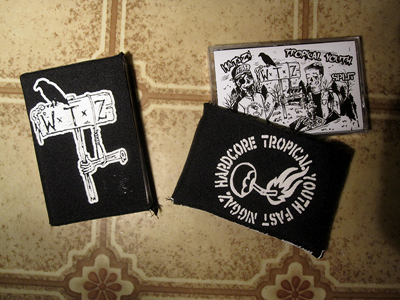 2013-october. WxTxZx plays intense thrashcore from Russia (with female vocal), Tropical Youth attacks with punky thraschore from Brazil.
The pro-done cassette comes with an informative b/w booklet, packed in a special tissue-bag! Limited to 200 copies.
Ask for the patch with the logo of WxTxZx (in two types) and Tropical Youth (see the images).
SOLD OUT
Click on to see in original size!